REFLEXITE ECE104 Reflective Tape / Conspicuity Tapes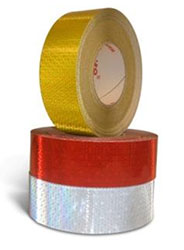 The Reflexite ECE104 reflective tape range has long been a preffered choice by leading fleets throughout Europe as it is not only approved to meet and exceed specification requirements, but is also very easy to apply even if you are no expert, and its outstanding durability and single layer construction mean that continuous power washings will have no effect on the reflective tape.
The Reflexite ECE104 tape is fully ECE104 Class C approved to comply with Regulation 48.03

The tape has a signified e-mark to indicate that it is compliant.

From 10th July 2011 it is a mandatory requirment that conspicuity markings are fitted to goods vehicles with a gross vehicle weight exceeding 7.5t and trailers with a gross vehicle weight exceeding 3.5t.
Exact layout of the tape will depend on the design and intended use of the vehicle. Technical details are contained in European regulations on vehicle lights, paragraph 6.21 of UNECE Regulation 48.03.